Slight hair loss is natural but when hair loss continues for a long time and the amount of hair loss also gets aggravated, it is a matter of concern. This problem can be hereditary and before that baldness starts appearing, and all your home remedies & medications failed miserably. It's time to think about hair transplant treatment.
If you need help then consult an expert & reputed hair transplant doctor for medical assistance. Hair fall in men and women include numerous reasons like nutrient deficiencies, excessive use of hair care products, hereditary problems, side effects of ongoing medicines, lack of protein, hormonal imbalance, stress, anemia, infection of the scalp and many other causes. Hair Transplant is the best option for those who want a more reliable, safe and long-term solution.
Due to the use of state-of-the-art techniques, easy availability of state-of-the-art clinics and expertise of skilled surgeons, it is now possible to restore hair on the head, which looks just as good as real hair. Generally, this process of hair transplant is done under general anesthesia and there is no need to stay in the hospital. With this, any person can regain their youth look without any pain.
FUE (Follicular Unit Extraction):
Two types of hair transplant procedures are currently popular – the Follicular Unit Transplant (FUT) method or strip method and the Follicular Unit Extraction (FUE) or Punch Method. FUT or strip method is used by 90 percent of the surgeons around the world. The hair of the head is carefully restored in this process. In this, local anesthesia is given to the patient and a strip of skin from the back and sides of the scalp is removed including hair and hair follicles. This process takes 6-8 hours and at the same time 8-10 doctor's work in this operation. The patient can go home the same day and start his work from the next day. This method works mostly in most cases due to this convenience.
Follicular Unit Extraction – In this surgery, first of all, the surgeons extracts hair follicles from the back of the head with the microsurgical tools, one by one. These hair follicles are transplanted on the bald part of the head. Hair transplant takes four to six hours. Doctors who have undergone such surgery believe that having some common problems like hair transplant surgery, such as swelling, irritation or itching is very common and these problems are well-cured over time. Also, experienced doctors working on hair transplants for a number of years believe that these procedures are safe and harmless.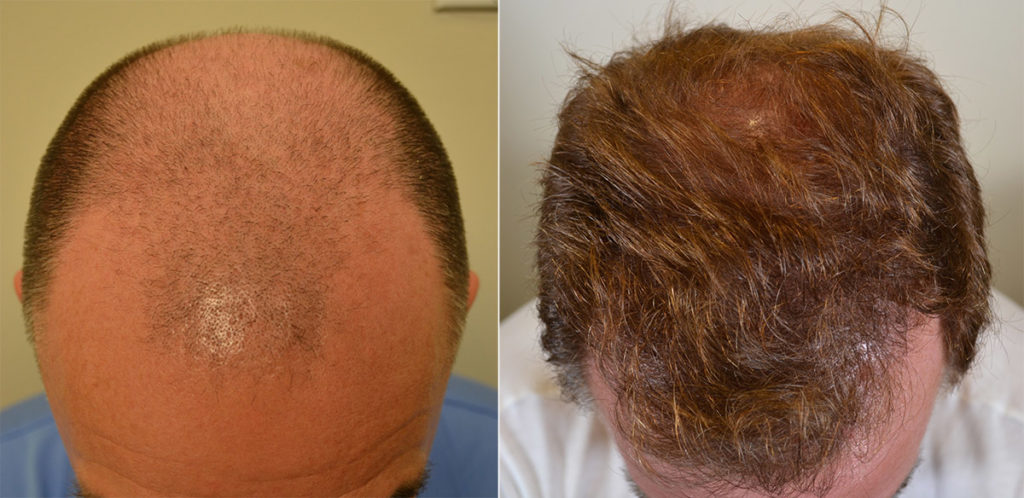 In FUE no strip or stitches are applied. Usually, in a sitting, 2000-3000 Follicles are applied and it takes 6 to 8 hours.
Benefits of FUE over FUT
No scarring
The donor area is not affected
The donor area can by anywhere on head whereas in FUT the donor area is limited to mid-rear of the scalp where the hair is thickest.
FUE ensures a natural looking result using 'true' and natural follicle units
Less downtime just a few days whereas 15 days in FUT
Natural looking hairline guaranteed
One main point of the consideration can be the cost of the hair transplant can be expensive but cost-effective is ensured. The results are everlasting. The success of the treatment also depends on the patient medical background and the hair transplant clinic from where the treatment is being conducted.