There are many factors that have influenced the popularity. Earlier people use to get baldness after 50's, which was okay according to age to loose tresses forever. Earlier no one had enough money to invest in these kinds of surgeries, which are more of cosmetic and all of the above the technology was not advanced and not so readily available. Earlier people were not so self-conscious about their looks.
But in recent years the hair transplant treatment has gained and had reached a whole different level of demand. Actually, a word "transplant" has always given a horrifying experience in masses but this technique to restore to the hair loss is quite effective and is forever.
Now a day the lifestyle has changed so drastically that it's affecting our physical, mental and emotional health, which is not a good thing. In recent years the problem of hair loss/ baldness has climbed graph tremendously due to lack of sleep, nutrition, and external nourishment and over styling the hair under extreme heat and various chemicals. Many people have started developing hair loss and bald patches in there early 20's and all is due to changing lifestyle.
With the advancement and advent of modern technology Hair transplant surgery became a huge success. There are many advantages due to which hair transplant is in trend.
Lifelong Results- The hair those are transplanted stays lifelong, they continue to grow after surgery and are not affected by the hormones.
Cost-Effectiveness- This is the most cost-effective surgery for hair restoration when compared to the recurring expenses on medicines and other home remedies.
Painless procedure – Regardless of being a surgical procedure, the hair transplant procedure is not very painful. The patient can start work from the next day after hair transplantation.
The Results – The results are natural, it's safe and permanent provided the hair transplant doctor and hair transplant clinic is chosen very carefully and the prescription and instructions are to be followed religiously.
Brings back the confidence: Hair transplant gives a whole new look by adding grace to the personality and boosts the self-esteem.
Readily Available: Hair transplant is readily available in all cities, it not only limited to the metros now but also to the small cities and towns.
Less risk of complications
Insignificant post-surgery discomfort
No scars or stitches (FUE)
The quickest way to restore lost hair.
Hair transplant is considered to be the best way to treat hair fall or to treat baldness. Generally, there are two ways to do hair transplantation –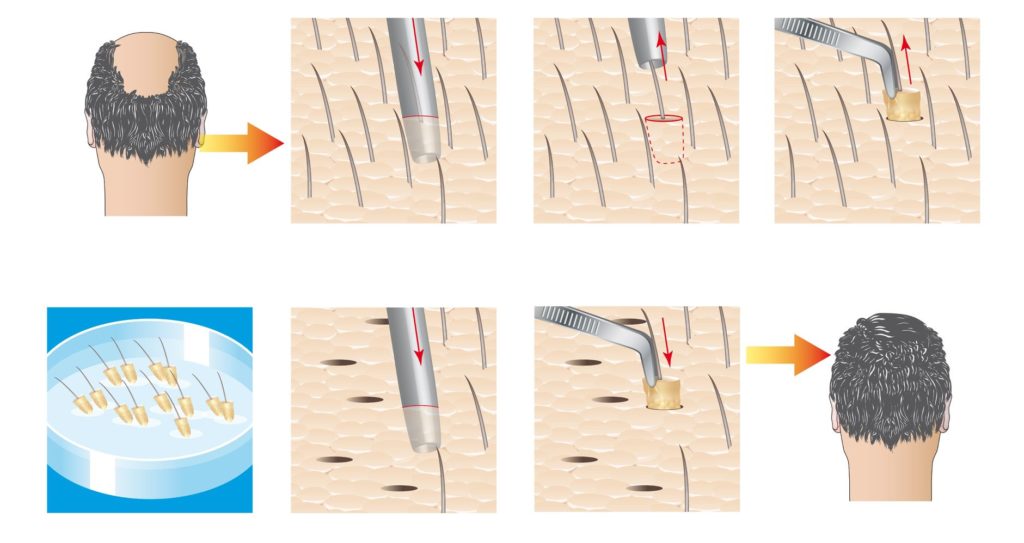 Follicular Unit Transplant (Strip Technique). In this technique, the head is numbed first and then the strip from the back of the head removes a rectangular strip from the donor zone. In the gap behind the head, the upper and lower part is brought in and closed by stitches. The single hair is separated from that strip and is inserted in the area where there is baldness in the frontal area.
The second technique is Follicular Unit Extraction, instead of removing the strip, single hair follicles are extracted which contains three or four hair. In this, about 5 or 6 thousand hairs is collected at a time, putting them in the area of ​​baldness. The only difference between these two techniques is how they are extracted, after that the process is the same. These hairs start growing after 3 months, you can do whatever you want with these hairs.
After the surgery, do not wash the hair for the next 24 hours, then only pour water on the hair, do not rub.
After Hair transplants, hair fall that is normal. But after 1 to 2 months begin to grow properly, so it takes at least 3 to 4 months to get the full result.
Many people complain that they do not have complete hair, due to bad technique, specialist plastic surgeon or dermatologist, and non-treatment of autoimmune disease.
It is very important for a trained doctor to be a plastic surgeon or a dermatologist, specialist clinic and emergency care.
Thinking hair transplant Call us – +91 7087 55 55 56